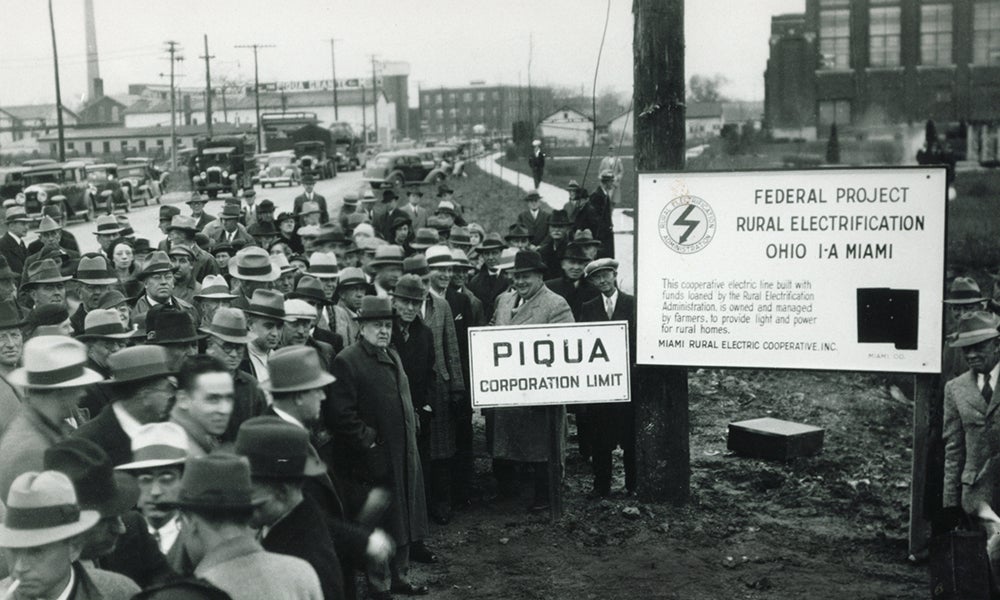 By the 1930s, cities across the United States had been transformed into modern engines of commerce and culture thanks to electric service.
But rural Americans remained in the dark.
That changed on May 11, 1935, when President Franklin D. Roosevelt established the Rural Electrification Administration, which sought to expand electric service beyond the country's metropolitan areas.
From this action arose Ohio's electric cooperatives, which rapidly signed up new members and built the needed infrastructure to serve farms and households across the state.
In 1941, Ohio's electric cooperatives established a statewide services organization to foster collaboration and to advocate on their behalf. And in 1959, they joined together to supply their members with affordable power.
Today, 25 electric cooperatives serve more than 380,000 homes and businesses in 77 of Ohio's 88 counties — guided by the seven principles upon which they were founded. All of our cooperatives are members of Touchstone Energy® — a national network of electric cooperatives across 46 states that provides resources to help member cooperatives and their employees better engage and serve their member-owners.
Together, we are Ohio's Electric Cooperatives.